Get AC Repairs For Your Cary Area Home
When the sweltering summer heat strikes the Triangle area, you know you're protected inside by the cool breeze blown by your air conditioning system. But what happens when the breeze stops? If your unit is on the fritz, it could be that it just needs a minor AC repairs to get up and going again. However, you can't know for sure until you've have a professional HVAC technician take a look.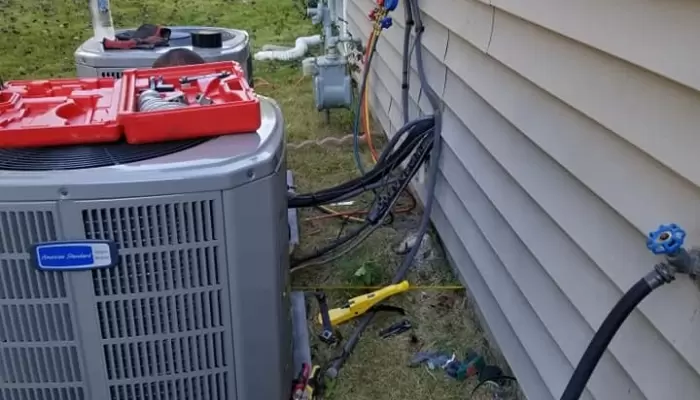 Call us in and we'll investigate, diagnose and fix your AC repair issue with expert training and personable attitude. Your cool, comforting breeze will be restored in short order. Don't melt in the August heat - call us at 984-345-2556 today!
Is Your Unit Sending a Summer S.O.S.?
With luck, you'd be able to figure out something was up before it became a problem. To offer some help, below are a few signs that your air conditioner might be on the verge of giving you a stifling surprise.
Where's the Air? If your system seems to be on but you aren't feeling any air blowing from your vents, something is up (and not just the temperature).
Leaks: Some condensation around your AC unit is to be expected, but if you start to see a lot of water leaking from your system, you've got a real problem. A blocked drain line might be causing the water leak, or you could be dealing with a refrigerant leak. In either case, you'll want to get this issue settled as soon as possible.
Loud Noises: Most components of your HVAC system will make at least a little noise when they're operating. But if your air conditioner sounds like it's auditioning for a rock band, you need to get it checked out.
Sweat Outside, Sweat Inside: Besides keeping the air cool, your air conditioner is also supposed to help mediate the humidity in your home. If you've lived in the Raleigh area for a few years, you know the humidity can be a physical thing. If you're feeling it as bad inside as outside, your AC isn't doing its job.
Don't Get Scorched By The Summer Heat
Don't suffer in the heat any longer! Take action today and reach out to our dedicated air conditioning repair service team. Our skilled technicians are ready to tackle any cooling system challenge and restore your comfort.
Nobody wants to melt like the Wicked Witch of the West. If you notice any of these signs or symptoms, you need to call Comfort Pro today so we can get your AC fixed and your air cool.
Give us a ring at 984-345-2556 or drop us a line through our web site. We've got your back!