Expert Residential HVAC Service near Cary & Holly Springs
Installation, Maintenance, Repair and More - Comfort Pro Has You Covered
A home is meant to be a place of peace, relaxation and above all comfort. Lucky for you, when it comes to comfort - we're the professionals. Comfort Pro's professional HVAC service includes heating, air conditioning and indoor air quality, covering your system's entire life cycle from installation and maintenance to repair and replacement. Our knowledgeable and skilled (and fun!) teams are available to handle any issues you encounter with your system, so you never have to worry about going without the luxury of a perfectly maintained climate inside your home. As a family owned and operated business with over 50 years of HVAC experience, we are committed to making your home consistently cool and invitingly warm; from our family to yours.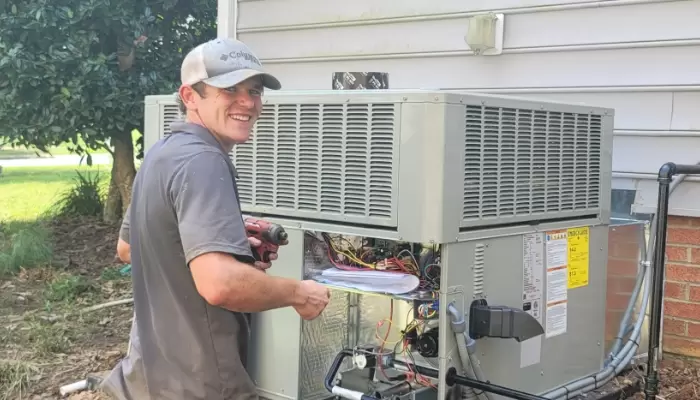 Services Available In the Triangle
Below is a brief sample of the many services Comfort Pro offers. Call us today at +19843452556 or contact us online and put the Pros to work for you.
Air Conditioning: Want to make sure your AC is operating at peak efficiency? We can perform regular maintenance so you're always getting the most out of it. Has it gone down and left you baking in the summer heat? Our expert technicians can cure its ills and restore the cool breeze you expect. Finally ready to upgrade an aging system? Let us design a brand new system customized for your home. Interested in alternatives to the traditional HVAC setup? Allow us to introduce you to the advantages of ductless mini-split air conditioners and zoned air conditioning systems.
Heating: As cool autumn breezes give way to chilly winter winds, will your home be ready to wrap you in comforting warmth? It will if the Comfort Pro has a say in the matter! Whether you have a furnace or a heat pump, we can ensure your home remains pleasantly toasty no matter the weather outside. Is your furnace making strange sounds that keep you up at night? We can repair or replace it. Heat pump having trouble keeping up the temperature? One visit from us and it'll be pumping it up in no time.
Indoor Air Quality: We spend up to 90% of our time indoors. Who wants to spend that time breathing dirty air? Comfort Pro can call upon a host of options to give you air as pristine as a mountain breeze. Bring your internal dewpoint up with a whole-home humidifier - or get the summer stickiness under control with a whole-home dehumidifier instead. Think your home might be leaking out the good air while the bad air sneaks in? Talk to us about our air sealing services. Concerned about unwanted germs overstaying their welcome? Our air filtration systems can stop most at the door, and our UV air sanitizers can handle the rest.
The Comfort Pro Top Five - 5 Reasons To Make Us Your Preferred HVAC Contractor
We're Dependable: You can always count on us to do the job, and do it right.
Family Operated/Family Oriented: You want your family comfortable; our family wants to guarantee it for you. We don't sell HVAC, we sell satisfaction.
We Get It Right: No guesswork here. We figure out the root cause and fix it the right way the first time, every time.
Friendly and Fun: Our team is personable, highly-trained and loves nothing more than giving your home the perfect climate.
We're Trustworthy: Sure, we kinda said this already, but it's right there in the slogan! "Dependability You Can Count On, Every Time." We mean it.
Who Ya Gonna Call?
The choice is clear. For service, quality and people you can count on, call Comfort Pro.
Reach us online or call us at +19843452556 today!