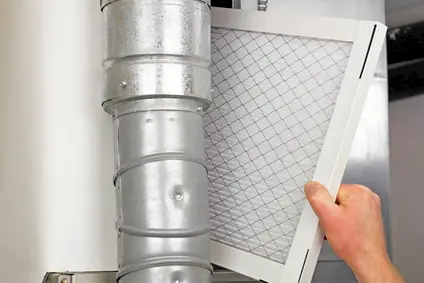 Indoor Air Quality Service near Holly Springs
Cleaning your house has the unfortunate side effect of putting dust in the air. If you want to clean your indoor air as thoroughly as you clean your living room, keep reading for tips on how to get the cleanest air inside your Cary, Apex and Holly Springs area home.
Install a whole-home filtration system
This can consist of a filtering device that attaches to your central heating or cooling unit. Some of the top models remove up to 99.98 percent of allergens from the filtered air. They can also catch particles down to 0.1 microns in size.
If you don't have a central duct system, buy high-quality room air purifiers
Make sure they use HEPA filters, which you should change once a year for optimum performance. Put one in every main room of your home.
These have been proven to help remove pathogens from room air. They work by shining UV light in an enclosed space and destroying the microorganisms within it. Combining one with an air filter gives you extra protection against harmful particulate matter.
Get control of your humidity
If your indoor humidity level tests below 30%, you need a humidifier. If it's higher than 50%, then you should get a dehumidifier instead. Proper humidity is key to preventing mold and dampness. However, choosing the right system can be confusing.
Contact Comfort Pro For Clean Indoor Air That's Perfectly Cooled
An air conditioning expert from Comfort Pro can do more than help you get clean air. We also have a wide range of services for helping whatever ails your home heating and cooling system. Some of our most popular choices include:
Join Our Comfort Club For Discounts And Other Perks
Want to get 15% off of parts and labor for repairs? Sign up for our Comfort Club and receive this plus other benefits, like no premium surcharge for emergency service. You'll also be moved to the front of the line during busy hours.
Plus, if you ever sell your home, the membership is fully transferable. Call us today to join Comfort Pro's Comfort Club!
Find Out Why We've Got The Best Customer Service near Holly Springs, Apex & Cary
At Comfort Pro, we know how crucial it is for you to have clean air that's properly humidified and delivered at the right temperature. That's why we put 100% effort into making sure the job is done right. If you've got questions or concerns at any point in the process, just let us know, and we'll promptly make things right. At Comfort Pro, we're here to serve you, so call us now to get started!