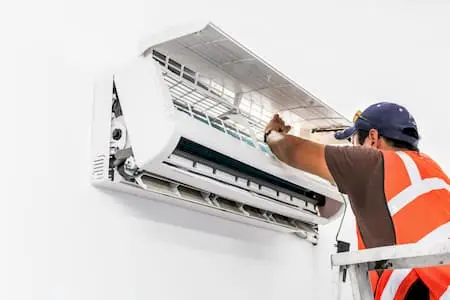 What Are Mini-Split Air Conditioners?
You're probably familiar with central AC in the traditional sense, but have you ever heard of mini-split air conditioners? They've been around since the 1950s but have recently been growing in popularity.
Mini-Split AC Benefits
To learn more about this fascinating choice for heating and cooling your home, read on.
Mini-split air conditioners don't need ducts. They consist of an outside condenser connected to one or more indoor air handling units through a small conduit. That's all they need for outdoor-indoor transfer. There's no big hole in the wall or dedicated window like with central systems.
They're much more energy-efficient than other cooling methods. That's because there's none of the energy loss associated with ducts, which can account for 30% of energy consumption for room conditioning.
They're less expensive than central AC systems. They cost almost a third more than central AC systems, although that price does not take into account the extra expense of ductwork.
You get zone control. Mini-split air conditioning allows you to control different zones in your house, so you don't have rooms or areas that are too cold or hot. The indoor air handling units come in different styles, and you can have them placed in a location that works best for you.
If you're ready to find out what a mini-split air conditioner can do for your Holly Springs, Apex or Cary area home, call Comfort Pro today!
We've got a wide selection of products that will look great adorning your house while they keep you comfortable. Our expert air conditioning contractor will help you pick a system that's just right. To learn more, call Comfort Pro today!
Join Our Comfort Club For Great Benefits
Keeping your HVAC system running great all year requires seasonal check-ups and timely repairs. Join our Comfort Club maintenance club that offers you the best in home heating and cooling care.

Some of its perks include 15% off of parts and labor for future repairs. Your service calls will also be moved to the front of the line during busy times. Ready to unlock these great benefits and more? Call Comfort Pro and ask about our Comfort Club!

At Comfort Pro, we strive to always deliver 100% satisfaction on all our projects. Whether it's our expert installations, great customer service, or high-quality heating and cooling products, you can rest assured that you're getting the best when you call Comfort Pro. Are you looking to upgrade your home's HVAC system, but you're not sure which one is right for you?

Give us a call, and our technicians will gladly help you. For top-notch HVAC and air quality maintenance you can rely on, call Comfort Pro today!

Should I Replace My Furnace? » « How To Get The Cleanest Air